Watch Real Steel
---
"If you get one shot, make it real."
"Real Steel" is set in the not too distant future where boxing has evolved from a human based sport and transformed into a display where larger-than-life robots battle it out for the entertainment of the crowd. A down on his luck former boxer, Charlie, is tasked with finding his way in a world where his skill set is no longer in demand. Charlie is an active robot boxer, but his world gets turned upside down when his ex-wife passes away and the custody of his son becomes an issue.
His ex-wife's sister and rich husband want custody of the boy, Max, and Charlie hatches a scheme for a big payday in exchange for the custody of the young boy. To Charlie's surprise, Max is into robot boxing, and the pair embark on a rocky road to get Charlie's machines into various competitions. Of course, Charlie's bad luck and lack of planning result in his robots being destroyed by opposing competitors. In a search for parts, Max discovers an antiquated robot boxer he dubs Atom.
While Charlie wants nothing to do with Atom, he allows Max to repair the machine and even helps him enter the robot in a few underground bouts. In a twist of irony, Max's older machine is built to handle the punishing cutting edge machines that populate several fighting leagues. It is not too long before Max and Atom become the center of the major robot championship division.
The pair's rise to stardom becomes complicated when Max learns of the deal Charlie made concerning his future and when ghosts from Charlie's past threaten to take the pair down. In the end, Charlie is faced with a decision on embracing the newfound changes in his life or continuing down the spiral he was riding prior to meeting Max.
At its heart, "Real Steel" is about the adventure that can ensue when two people share a common interest, and how powerful the bond between father and son can be. This is a special effects heavy film with a human interest drama playing out in between scenes of robots trading punches with each other.
In the end, Charlie and Max must put Atom against the champion of the robot boxing league, but they also learn to appreciate the things they have in common and use them for common ground to grow their relationship. Charlie and Max might be strong human characters, but Atom makes his presence felt throughout the film.
|
2011
|
2 hr 7 min
|

/

10
Cast

Studio

Director

Shawn Levy

Language

Russian
Real Steel News
Weekend Box Office: 'Paranormal Activity 3' Sets Record, Spooks Competition
October 24, 2011 @ 6:55 am PST
|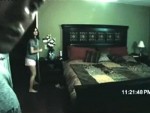 Studio execs have been getting increasingly nervous of late as the box office seemed to weaken more and more. Was it a result of the bad economy, or a result of bad movies? It's hard to know the answer for sure, but it certainly hasn't been a problem for "Paranormal Activity 3" thus far.
Read More

Weekend Box Office: 'Real Steel' KO's Competition
October 09, 2011 @ 12:25 pm PST
|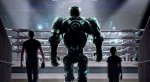 It was a slow weekend at the box office overall with only one major mainstream title coming out, but that one major mainstream title did pretty well for itself. For all the numbers on the fighting robots, scheming politicians and injured dolphins, read on.
Read More

Weekend Box Office: New Movies 'Footloose' and 'The Thing' Fail to Conquer
October 16, 2011 @ 11:09 am PST
|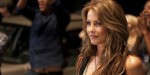 With this weekend seeing a more than 35% decrease in box office revenue from last year, many movie execs are officially freaking out. But are the lackluster sales a result of stingy moviegoers, or a decrease in the quality of the movies released?
Read More

Weekend Movie Trailers and Reviews: Is 'Real Steel' a Contender?
October 07, 2011 @ 11:15 am PST
|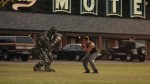 It has been a surprisingly good couple of weeks for movies, as films like "50/50" and "Moneyball" received positive reviews and "The Lion King 3D" and "Dolphin Tale" over-performed. Will this weekend's new slate of movies continue the trend? Robot boxing movie "Real Steel" and the political drama "Ides of March" open in theaters. Read previews and watch the trailers here.
Read More


Watch Real Steel Trailer


Watch Real Steel Online - Watch online anytime anywhere: Stream, Buy, Rent
Real Steel is currently available to watch and stream, buy, rent on demand at Amazon, Vudu, Google Play, FandangoNow, iTunes, YouTube VOD online.