Watch Passengers
---
"There is a reason they woke up."
In this science fiction film, a man and a woman find themselves stranded in deep space aboard a passenger spaceship after an equipment malfunction. At first, they have to come to terms with their personally dire situation, but soon they have much bigger problems to contend with. Chris Pratt and Jennifer Lawrence star.
|
2016
|
1 hr 56 min
|

/

10
Cast

Studio

Director

Morten Tyldum

Language

English
Passengers News
Jennifer Lawrence Doesn't Regret Being Rude to Her Fans
November 29, 2017 @ 6:32 am PST
|
Read More

Jennifer Lawrence Was Forced to Do Nude Line-Up for a Role
October 17, 2017 @ 7:47 am PST
|
Read More

Did Chris Pratt Cheat on Anna Faris with Jennifer Lawrence?
October 25, 2017 @ 7:28 am PST
|
Read More

Jennifer Lawrence Has a Profane Message for Those Who Hated Her Movie
September 22, 2017 @ 11:25 am PST
|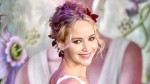 No one but critics liked Jennifer Lawrence's new movie, but the infamously unfiltered actress doesn't care.
Read More

Watch Passengers Trailer

PASSENGERS - Official Trailer (HD)|2:43

Watch Passengers Online - Watch online anytime anywhere: Stream, Buy, Rent
Passengers is currently available to watch and stream, buy, rent on demand at Google Play, iTunes online.