Watch Edge of Tomorrow
---
"Live, Die, Repeat"
In this action thriller, an alien race has invaded the planet Earth via an asteroid that has landed, and it is up to military forces around the world to launch an assault against them. However, no matter what special forces seems to do the alien race, called the Mimics, remains undefeatable.
|
2014
|
1 hr 53 min
|

/

10
Cast

Studio

Director

Doug Liman
Edge of Tomorrow News
Can Tom Cruise Beat 'Kingsman'?
September 28, 2017 @ 6:59 am PST
|
Read More

Will Tom Cruise Appear in 'Star Wars?'
June 23, 2014 @ 6:29 pm PST
|
Tom Cruise is rumored to be appearing in the upcoming "Star Wars: Episode VII." The "Edge of Tomorrow" star has been hanging out in London lately, and according to an insider, he's been meeting up with pal JJ Abrams and the "Star Wars" production staff to discuss a cameo role.
Read More

John Krasinski Ran On Stage to Hug Emily Blunt When She Won a Critic's Choice Award and It Was Adorable
January 16, 2015 @ 6:49 pm PST
|
Read More

New Movies June 13-15: 'Jump Street' and Dragon Training Sequelfest
June 13, 2014 @ 12:35 pm PST
|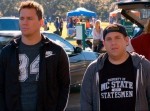 This week's two new releases don't offer anything new, but they're still generating a little excitement, since they're both critically-praised follow ups to big hits. One of the two of them will certainly be a hit, at least for the week, and there's a good chance that they'll both perform satisfactorily.
Read More


Watch Edge of Tomorrow Trailer

Live Die Repeat: Trailer|2:27

Watch Edge of Tomorrow Online - Watch online anytime anywhere: Stream, Buy, Rent
Edge of Tomorrow is currently available to watch and stream, buy, rent on demand at Google Play, iTunes online.